Are you looking for a way to build your SaaS website? And want to see your website grow from zero to hundred? Which I am sure is what we all thrive for today in this internet era, especially generating revenue from our website. Then we are here to help you in the best way to kickstart your journey with creating a groundbreaking website. 
Today, there are several SaaS (Software as a Service) businesses that make it difficult to stand out amongst competitors. However, with an attractive and high-converting website, one can grow their (SaaS) business smoothly and efficiently. So, to make this process easy I have brought you 10+ Best WebFlow SaaS Templates that can skyrocket your Saas business. 
List of Web Flow Saas Templates 
1. Toptech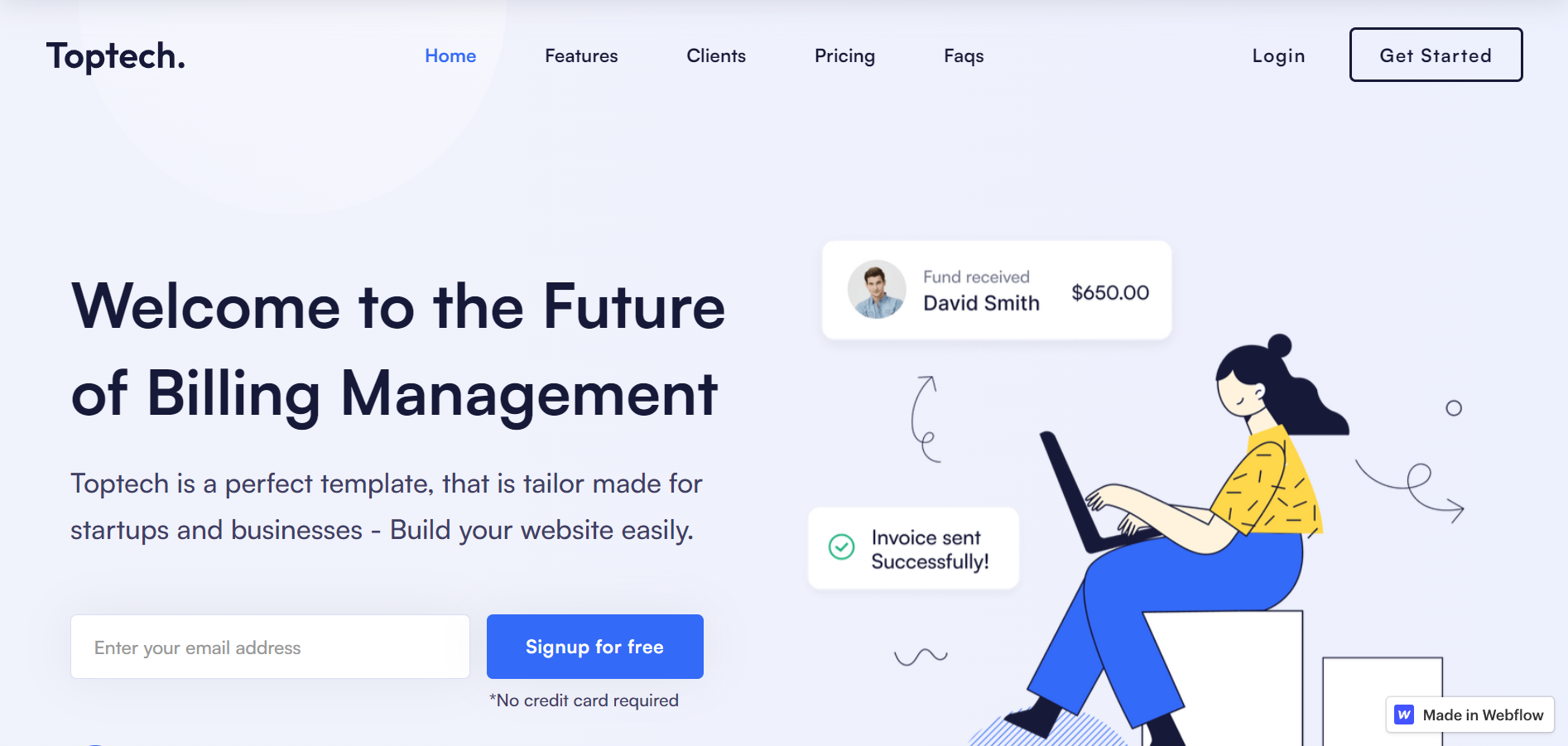 Toptech is one of the best Webflow SaaS Templates that are suitable for almost every modern tech brand.You don't need to worry even if you're a beginner as you don't need any coding knowledge while using this template. Its responsive design will make your website look amazing across all devices which will engage customers for a longer period of time. Its SEO-friendly nature will help you to rank at the top of different search engines. This template is designed in such a way that both International businesses can use it to emerging startups. Moreover, this template offers retina-ready images, robust designs and functionalities, enriched features, and many more majestic experiences. 
Features: 
Easy Navigation

Responsive Design

Option to Customize Visual Interface Too

Outstanding Ratings

Includes Invoice Template System

Compatible with All Major Web Browsers

Amazing Security

Provides Frequent New Updates
2. Seofy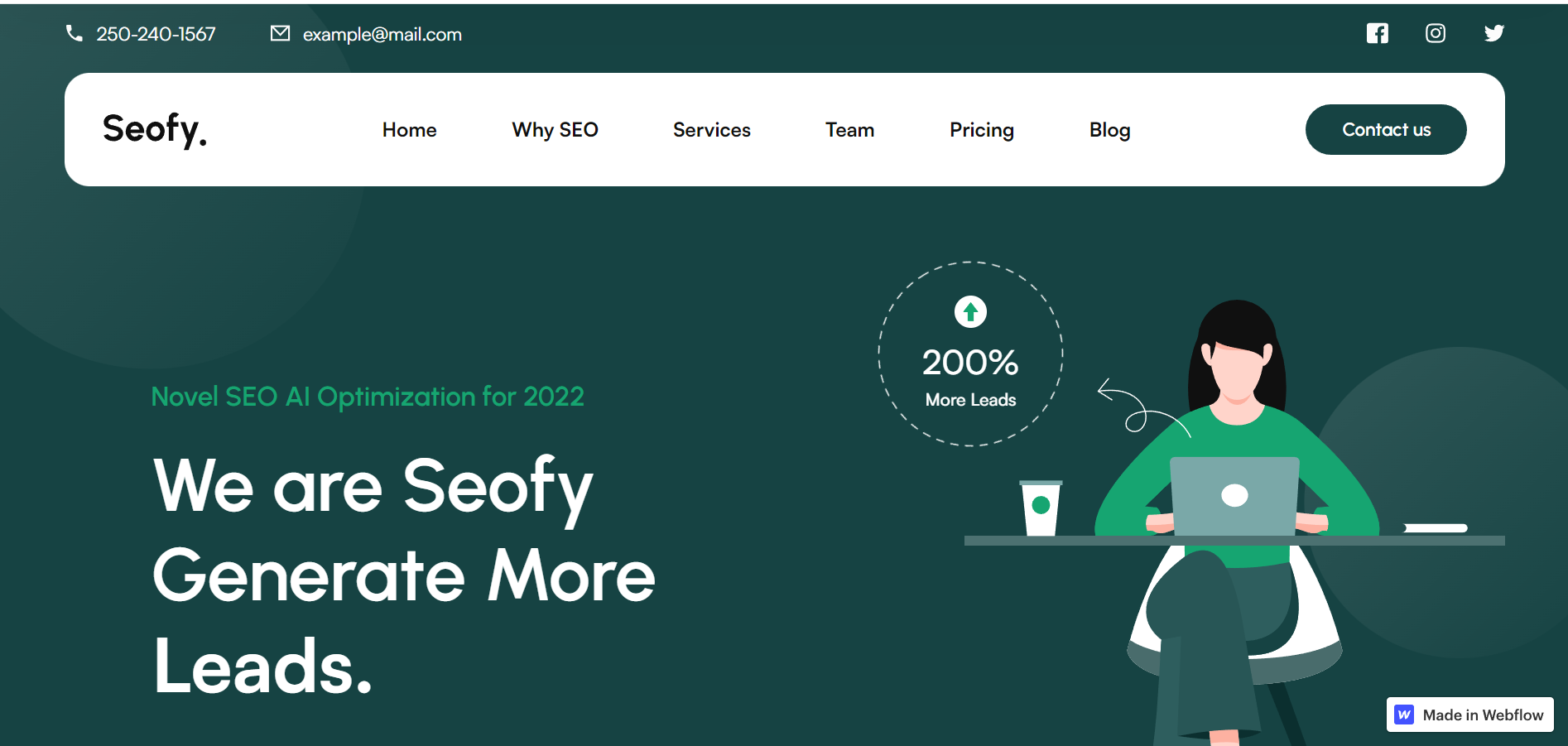 Seofy is one of the most responsive Webflow SaaS Templates that is fully responsive, modern, and has a very clean design. The updates of the template are made as per the requirements of its users. This template is designed to showcase a beautiful website with amazing features and functionalities in the perfect layouts.

The updates of this template are made as per the requirements of its users. This template can be considered an affordable and customized SEO solution for almost every user. It is insanely flexible and amazingly easy to use. Moreover, its support team is friendly and professional and usually goes out of its way to help you.

Features: 

Beautifully Crafted and Tailored

Stylish and Elegant Design

Responsive Navigation

Pleasant Interactions

Amazingly Designed Contact Form

Super Responsive in All Devices

Media Lightbox

Sharp and Vivid Images
3. StartFlow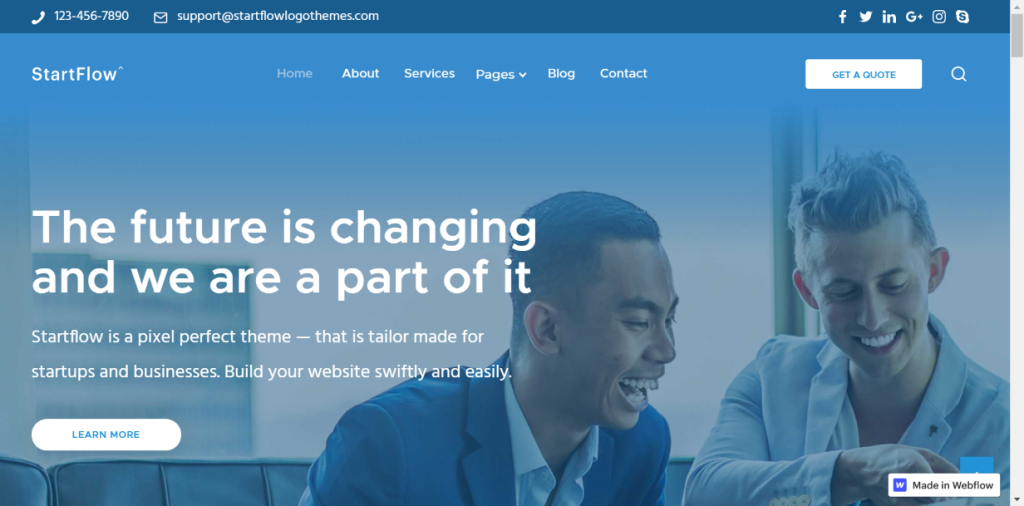 StartFlow is the best startup/agency template you should look out for, for your website. It is a newly released startup template by Brand Exponents that offers functionalities and promising features. The template comes with a detailed layout for a variety of use cases. Along with it, you can create different sites from corporate to a landing page for your company. StartFlow has a content management system that can customize the built-in database for your project or add new content. Further, with features like team members and video section, you get to present your services and members of your organization. The best part is that it has a responsive design that will let your website display perfectly on any device. 
Features
Responsive Design
Retina Ready
Team Members
Content Management System
Pricing Page
Contact Page
Blogs 
4. Tiles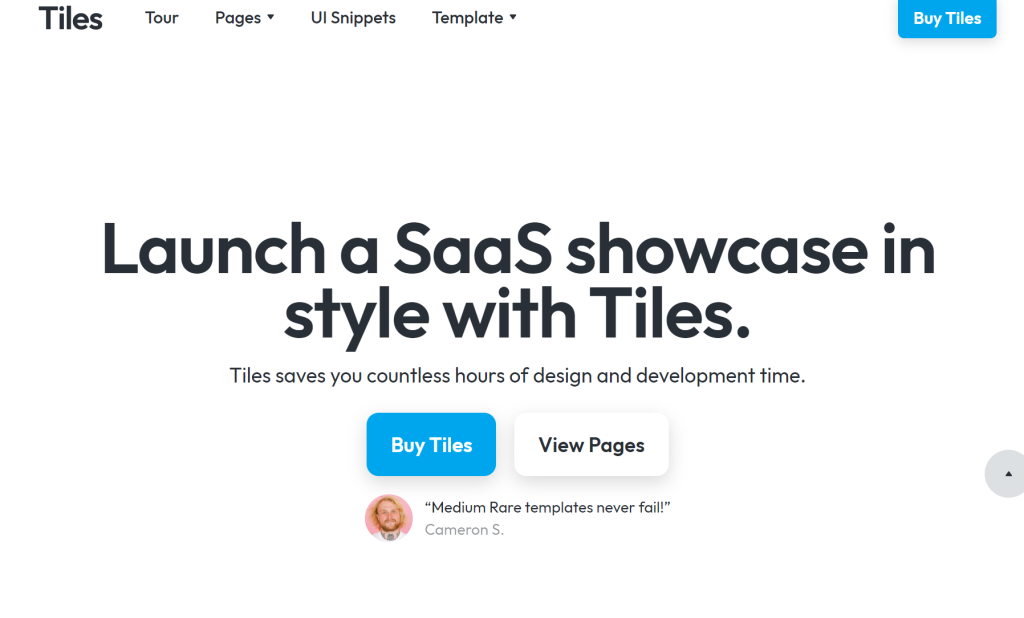 Tiles by Medium Rare is one of the best webflow saas templates. With its expansive, spacious panels, and a bold, clear typeface, Tiles provides a friendly and functional look. It is suited to startups of all types. The template also comes with a UI snippets feature through which you can embellish images and add context. Tiles have their UI kits that have been built to allow freedom for the users to construct their pages and sections from the blocks. Furthermore, you get 3 defined CMS collections – Customer Stories, Careers, and Blog. Everything a best SaaS website needs is what you'll get from Tiles Webflow SaaS Template. 
Features:
Responsive Navigation & Design
Forms
Animation and Interactions 
26 Unique Page Layouts
3D Transforms
Google Web Fonts
Retina Ready
CSS Grid
Medium Rare UI Kit and Snippets
5. Wonder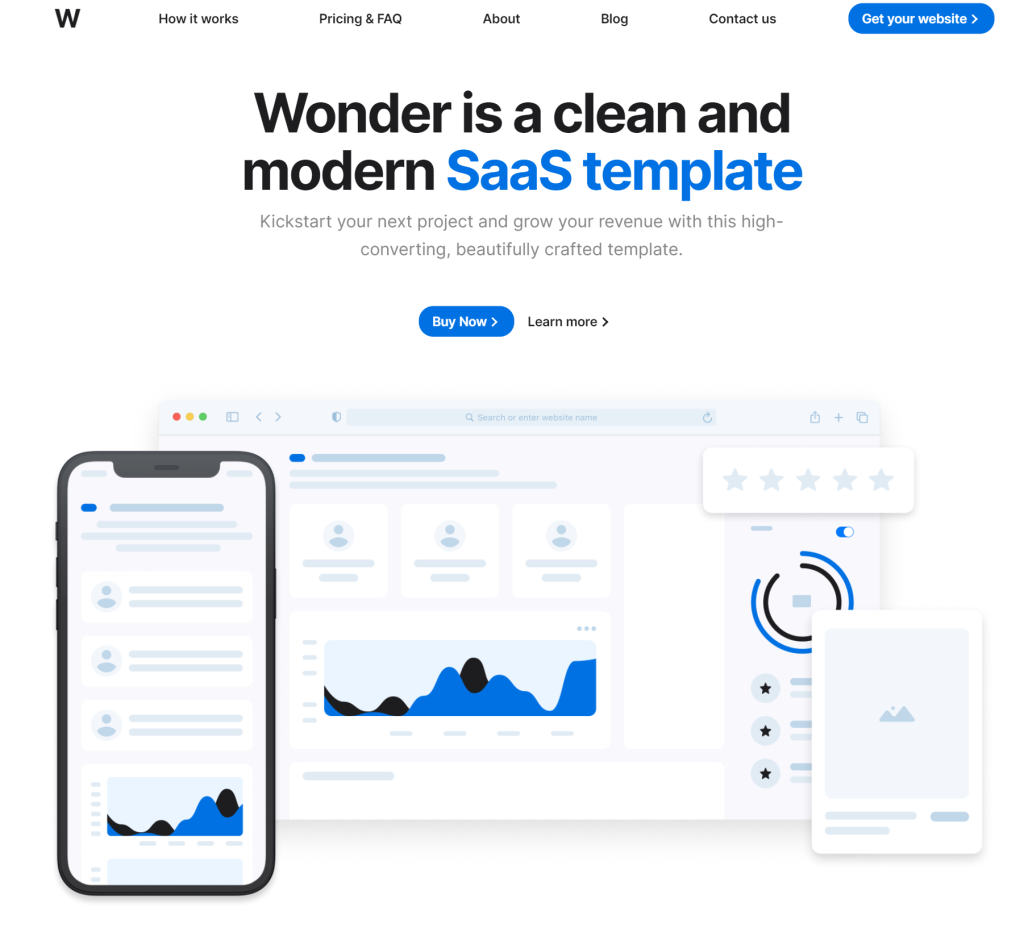 Another template in the list of best Webflow templates is Wonder by Flowyak. It is a high-converting, responsive, and beautifully designed template for tech startups. The template comes with a clean and modern look that makes it easy to kickstart your new project. With blog functionality, sections that you can mix & match, and fast loading speed Wonder has all the necessary features you need to grow revenue and SEO.  
Features
Blazing fast 
CMS for Blog posts
Easy to Use & Customize
Free Usable Assets
Retina Ready
Responsive Design & Navigation
6. EmeraldKit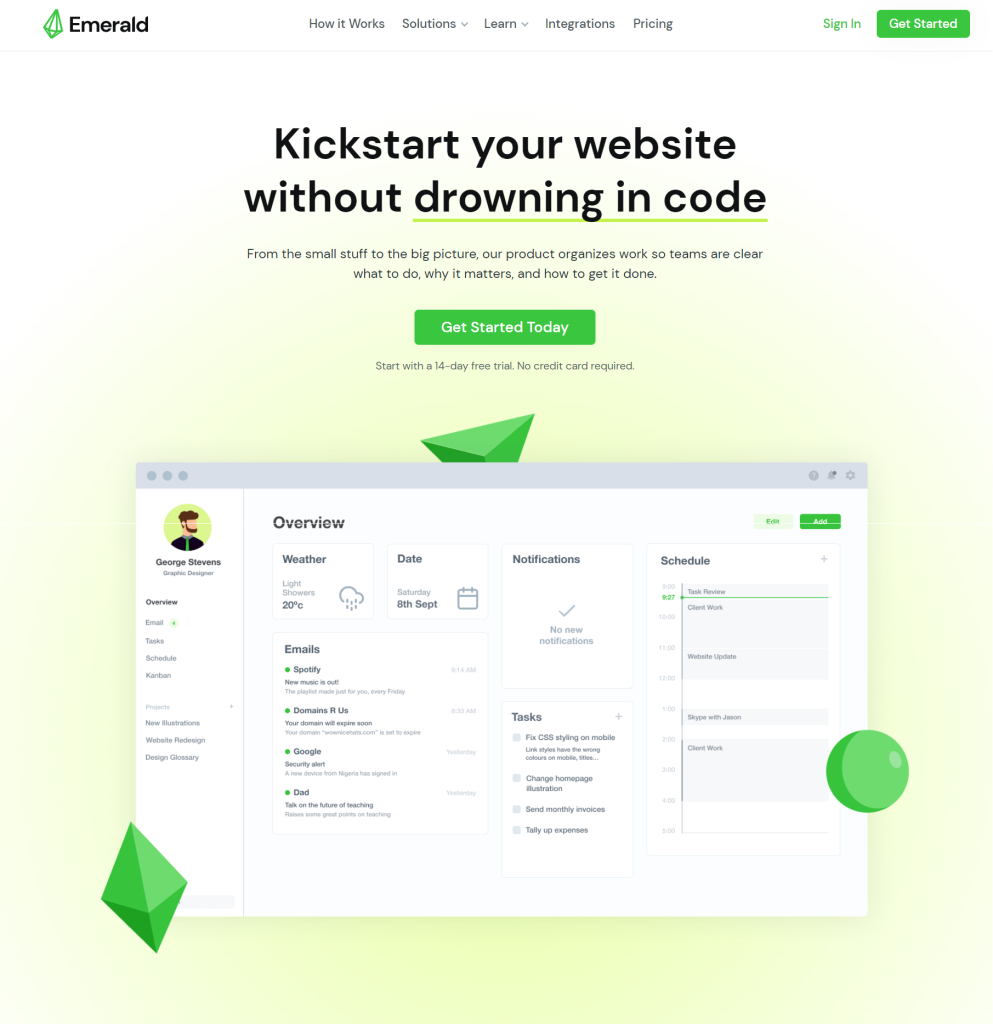 If you are looking for premium Webflow saas templates then you don't have to look further because this right here can be the one for you. EmeraldKit by Nikolai Bain is a premium webflow template for all SaaS and Startups. It comes with a great modern look that works for all SaaS products, from apps to websites. You can build a professional-looking marketing website with different page layouts and other features. The template is responsive to all devices and works great with modern browsers. 
Features 
Responsive Design
Interactions
Responsive Navigation
Forms 
Retina Ready
Web Fonts
7. Saasplex X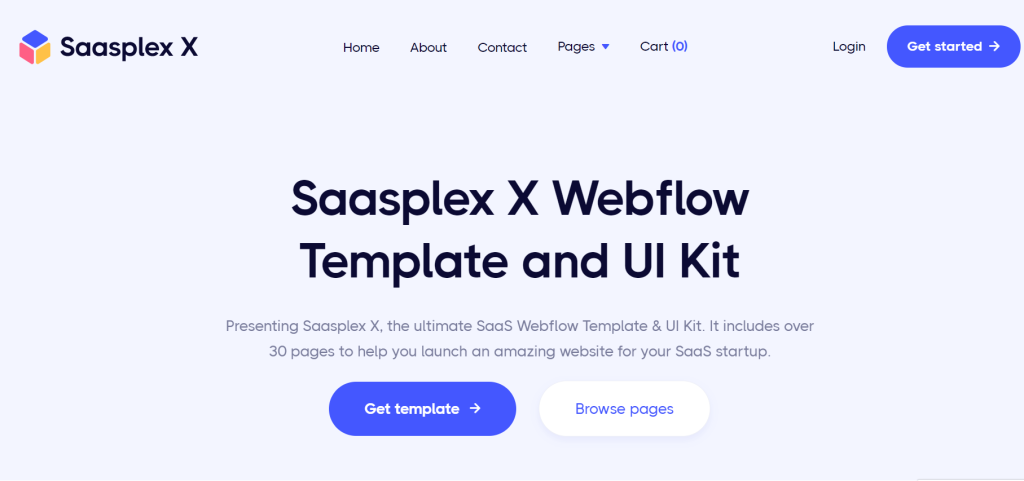 Saasplex X by Brix Templates is the ultimate webflow saas software for your B2B tech and SaaS companies. Saasplex is not only a saas template but is also a UI Kit that has everything the startup needs to create a cutting-edge website. With premium design, 33 pages, e-commerce built, and more such interesting features, Saasplex X will take your website to the next level. 
Features 
Unique and Premium Design
Responsive Design
Customizable
Webflow Ecommerce and CMS 
Speed Optimized
Responsive Slider
Seamless Animations
Figma File 
8. Zappy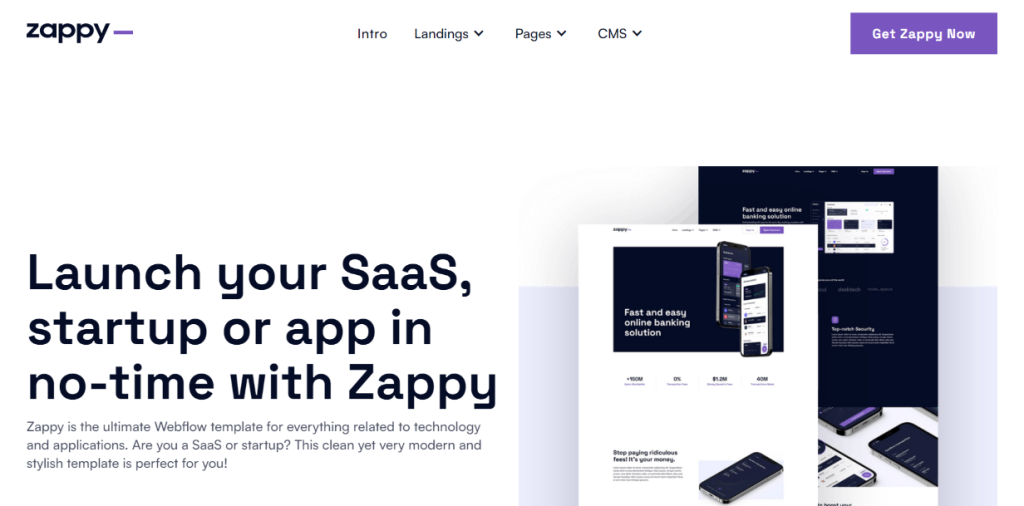 Zappy by Lightning Lab is yet another fantastic template under the webflow saas templates list. Whether you're a SaaS or Startup, this clean yet very modern and stylish template is perfect for you all. It is the ultimate Webflow UI Kit for technology and applications. Zappy was developed keeping in mind users' needs and to ensure that clients get the best user experience. With 28 pre-built blocks and 27 on-deck pages, you can create unique layouts.
Features
Responsive Design, Navigation & Slider
SEO Optimized
Supported by Major Browsers 
Media Lightbox
CSS Grid
Smooth Animation & Interaction
27 pages
9. Saasly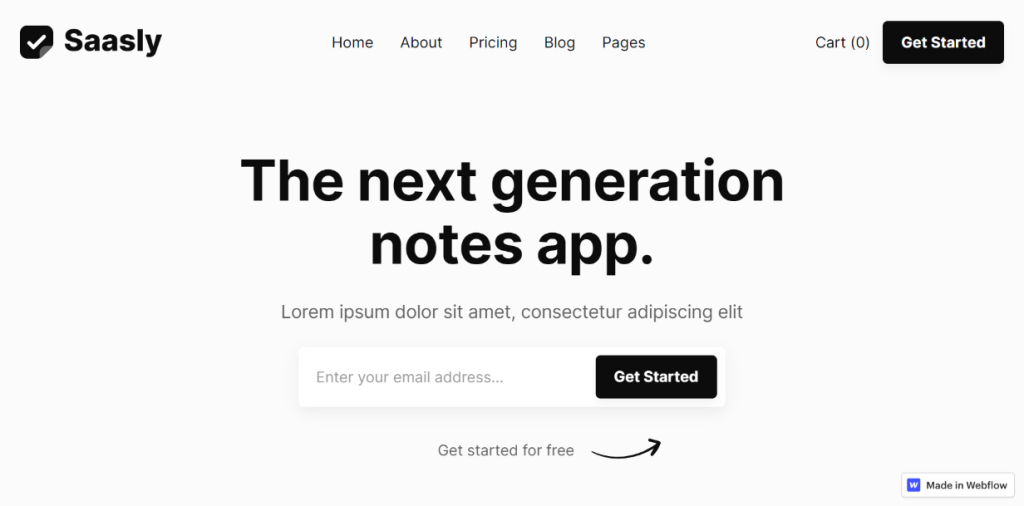 Saasly by Brix Templates is another best SaaS and Tech startup webflow template. What makes this template so perfect for all SaaS founders is that it is designed by SaaS founders only. It is a premium webflow template that features a modern design, to give your website a stellar online presence and help you get more users. The template comes with great benefits like it offers perfect responsive design, 12 pages, and it was developed to be editable so it is easy to customize. 
Features
Webflow CMS & Ecommerce
Up-To-Date with features & functionalities 
Seamless Animations
Retina Ready
Web Fonts
Responsive Design, Navigation & slider
10. Wave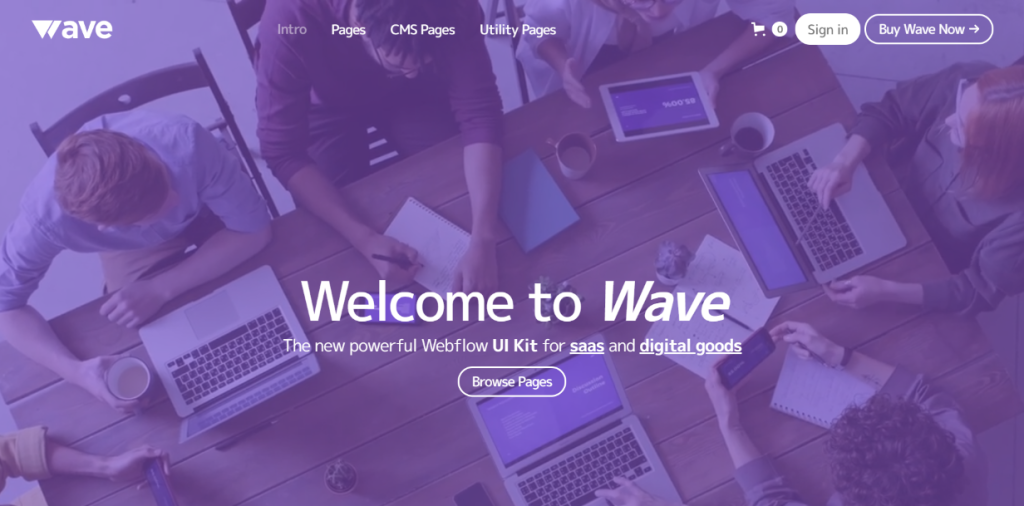 This template by Udesly is one powerful UI Kit for SaaS companies and digital goods stores. Wave template comes with 30+ unique pages, browser compatibility, smooth interactions, and much more. It is a fully responsive template that includes everything you need for creating an impressive website. With its high-quality design, your website will shine and grow impressively. 
Features
Browser Compatibility
WebFlow CMS & Ecommerce
Background Video
Smooth Interactions/Animations
Working Contact Form
Responsive Design, Navigation & Slider
11. SoftBit – Ecommerce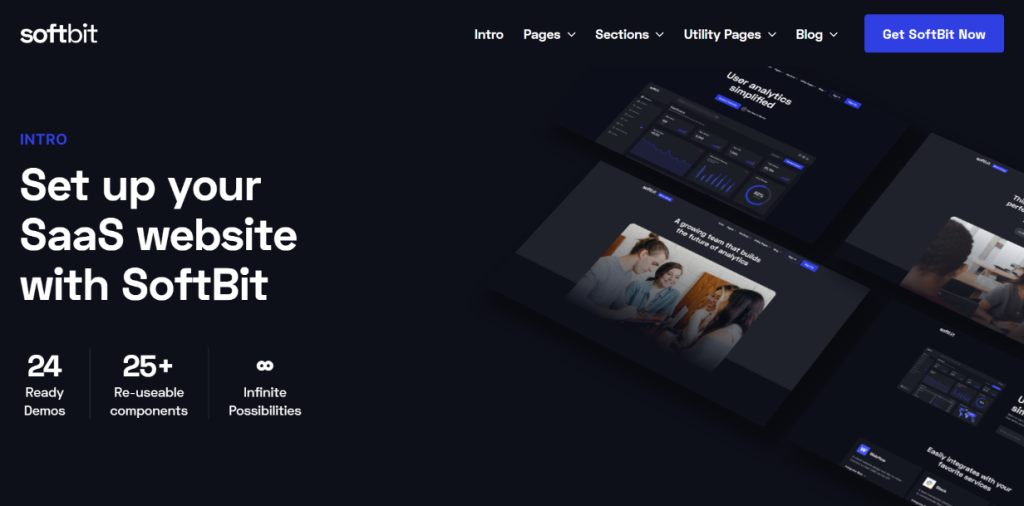 SoftBit – Ecommerce by Lightning Lab is the ideal UI Kit for all SaaS Startup who needs to showcase their service in the best way. The SaaS template provides a feature section, FAQ section, striking landing pages with customizable hero sections, and much more. If you love dark interfaces then this template is for you because it comes with a sleek dark user interface. The template also includes other features like multiple CMS pages, google font, custom animations & interactions and so much more.
Features 
4 customizable hero sections
27 custom smooth animations & interactions
Dark user interface
Clean code
SEO Optimize
Media Lightbox
Fully Responsive design
12. TaaS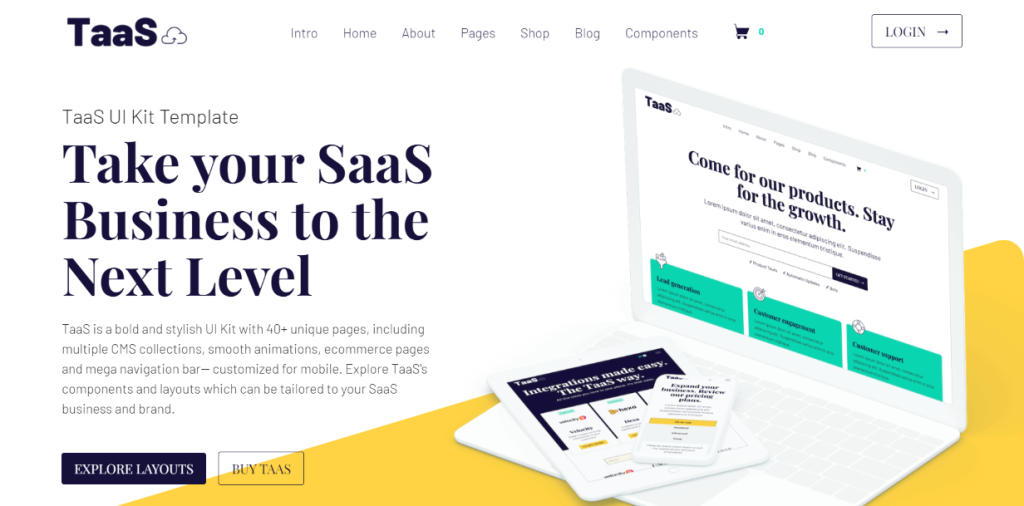 TaaS is one of the best Webflow saas templates by Marion & Co. It is a stylish and bold UI Kit for SaaS and Startup businesses. The template comes with 40+ unique pages, along with e-commerce pages, CMS collections, and a mega navigation bar. TaaS is created with Global Swatches, which means you can change the template color with a few clicks. 
A website with smooth animations and interactions always gives pleasure and allures users. That can be made easy with animation and interaction features in this saas template. The template is customized for mobile devices, you can also style base elements with the help of Style Guide. 
Features 
100% Customizable
Global Swatches
Webflow Ecommerce & CMS
Smooth Animations & Interactions
Contact Form
Style Guide & utility Pages
Responsive Design & Navigation
Symbols
13. Bonus:  FinFlow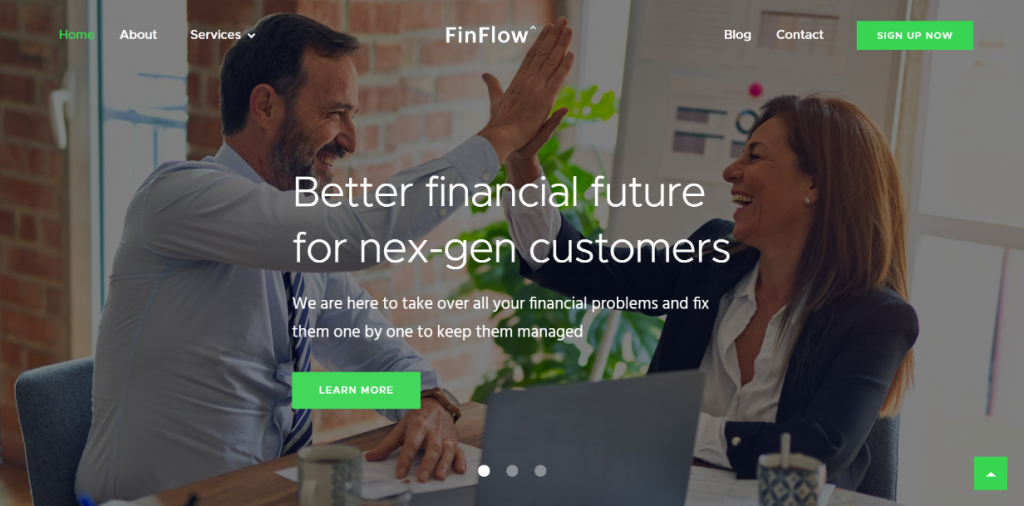 FinFlow by Brand Exponents is a finance/consulting website template. The FinFlow template is ideal for insurance agencies, consulting firms, asset managers, loan agents, and others.  It is a very clean and elegant template for Webflow. FinFlow comes with fully integrated blogs, precisely designed sections, and animations & interactions. The template can make your overall website responsive with responsive design, navigation, and slider features. You can, with stunning forms, build a subscriber base and lead lists.
Features 
Responsive Slider, Design & Navigation
Forms
Retina Ready
Webflow CMS
Integrated Blogs
Designed Sections
Conclusion
Since now you know the best Webflow SaaS Templates, you can visit the website and choose the one that suits you. These were the best 10 we curated, there are many other such stunning templates you can see in the Webflow Marketplace. As you might have noticed all these templates come with few common features, which make them difficult to choose from. But in the end, pick your favorite that can make your website's online presence attractive. 
If you're also looking for the list of Webflow Startup Templates then you can go over the 10+ Best Webflow Startup Templates of 2021 article. Here, I have mentioned StartFlow by Brand Exponents, which is one amazing and newly introduced Startup Template. 
Do check it out and let us know your opinion in the comments.