Looking for a Great WordPress Mega Menu Plugin for your WordPress website? In this article, we have compared some of the best WordPress Mega Menu Plugins available currently in the market.
We know how painful it is as a website owner when you lose crucial visitor traffic due to improper site navigation. Having a well-connected site is very important especially for navigation and also for SEO purposes.
Modern website themes have an awesome menu structure with high customization options by which you can customize the main navigation menu as per your needs and build a cool Mega Menu if your site is large.
This is what is lacking on older themes as you have limited customization options and at some point, in time you will end up with a traditional style menu due to a lack of customization that is not at all appealing and is outdated.
If you are using an old WordPress Theme or you cannot customize your current theme to make the navigation menu look more appealing you can download a plugin for that. This way you can easily hide your original not so good menu with a brand new mega menu.
So, before comparing the plugins let's first find out What exactly is a WordPress Mega Menu?
What is a Mega Menu and its Advantages?
WordPress Mega Menu is simply a drop-down style menu with multi-level expansions by which you can pack all your website's navigation into a single menu. This way the visitors can easily reach the deepest sections of your website through the main menu.
If you have a very large website, for example, a store, with multiple categories and subcategories you should probably opt for a Mega Menu that will prove beneficial for your website and greatly help customers/visitors find their way.
Its advantages include an improved user experience, increase in conversions, keeps your visitors for longer on your site, generates more sales, decrease in bounce rates and most important of all are happy customers.
The Best WordPress Mega Menu Plugins for 2021
After knowing what exactly are Mega Menus we can now lookout for the best ones for your website.
Frankly, there are only a bunch of good WordPress menu plugins that actually have the Mega Menu functionality. So that's why you will find most of the plugins are of premium category that will also provide you with priority customer support and regular product updates.
So lets get started!
1. Responsive Menu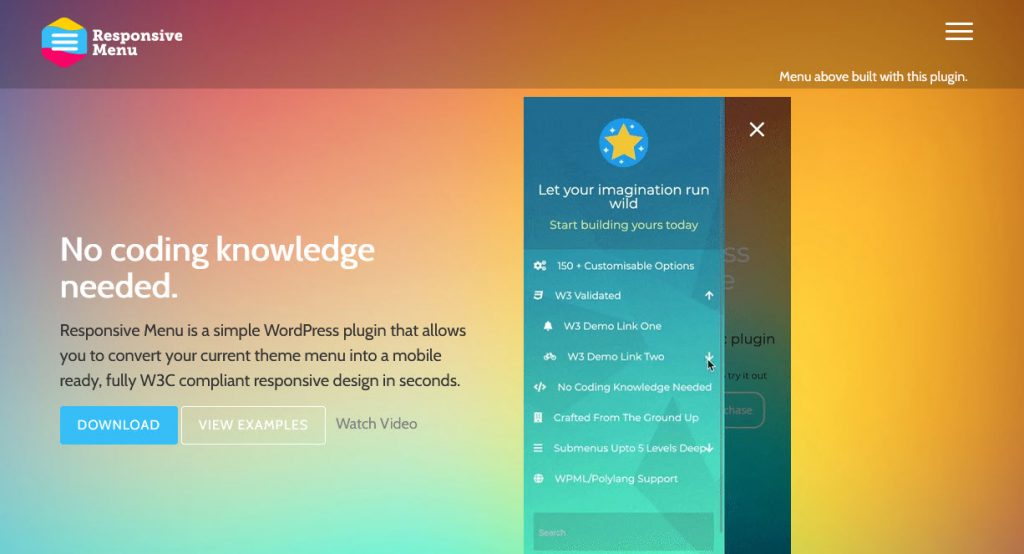 The first in this list is our own Responsive Menu Plugin, that's not just because it is our product but also because it actually does what it says!
Responsive Menu Pro Plugin has two million downloads and is a Highly Customizable Responsive Menu Plugin with 150+ Customizations offering the Mega Menu Support.
You do not require any coding knowledge to make beautiful Mega Menus because this plugin is easy to use and just like any other mobile/desktop app.
You can customize the plugin to make the menu look amazing on Mobile, Desktop, and Tablet Devices. With Responsive Menu Pro Plugin, you can build and customize:
Desktop and Mega Menu
Get 20+ Button Animations
Combine the Menus with a Header Bar
600+ Font Icons from various providers
Control Menu with Touch Gestures and Keyboard Commands
Make your site Multi-Lingual Site Ready with WPML and Polylang Support
---
2. Elements Kit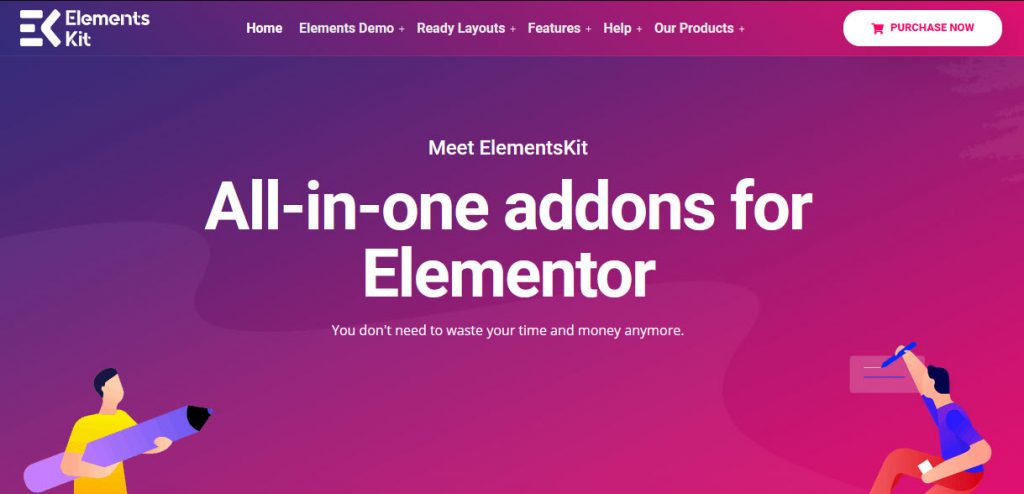 Elements Kit is an all in one addon for Elementor Page Builder. You need to have the Elementor Builder Installed to use this plugin.
Using this plugin you can equip your the Elementor Page Builder with comprehensive easy to use modules. With this plugin, you can build amazing WordPress Mega Menus.
Also Read: This is how you can stop non-stop login attempts in your WordPress website
With its Mega Menu Builder you can have the below mentioned features:
Build Amazing Content with the Page Builder
100% Responsive
Multiple Elementor Addons
Off-Canvas Style in Tablet View
Show Builder Content as Submenu in tablet view
---
3. Max Mega Menu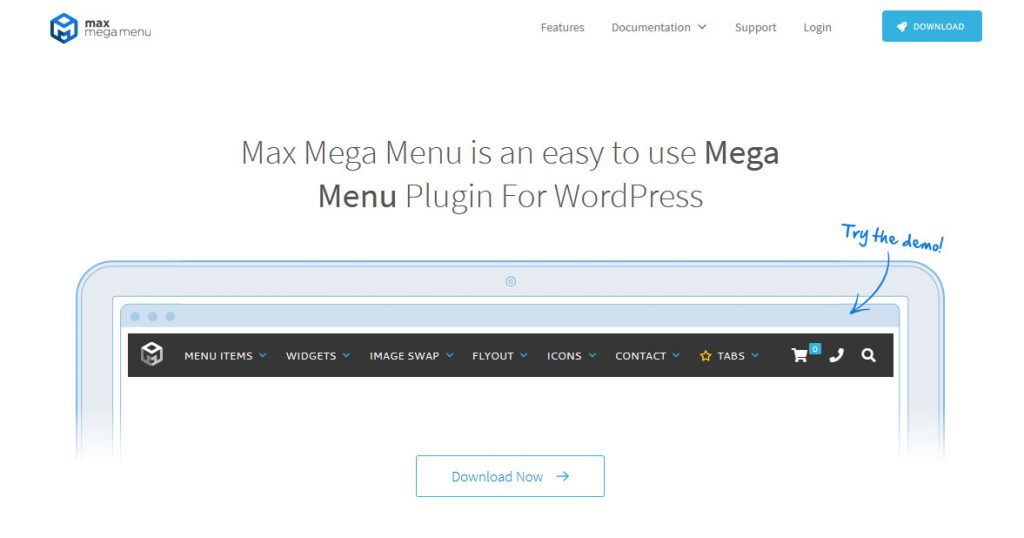 Max Mega Menu is another amazing WordPress Mega Menu Plugin that can turn your regular menu in a Mega Menu.
It can add interactive elements to your menu and turn your existing theme menu into a Mega Menu which you can edit by easy drag and drop function.
With the Plugin's Pro Version you can create Vertical Mega Menus, Accordion Menus, Sticky Menus, and more. It can also work with WooCommerce enabled stores and display AJAX Enabled carts inside the menu.
It can take full control over the menu item styling and also comes with priority customer support.
---
4. Quad Menu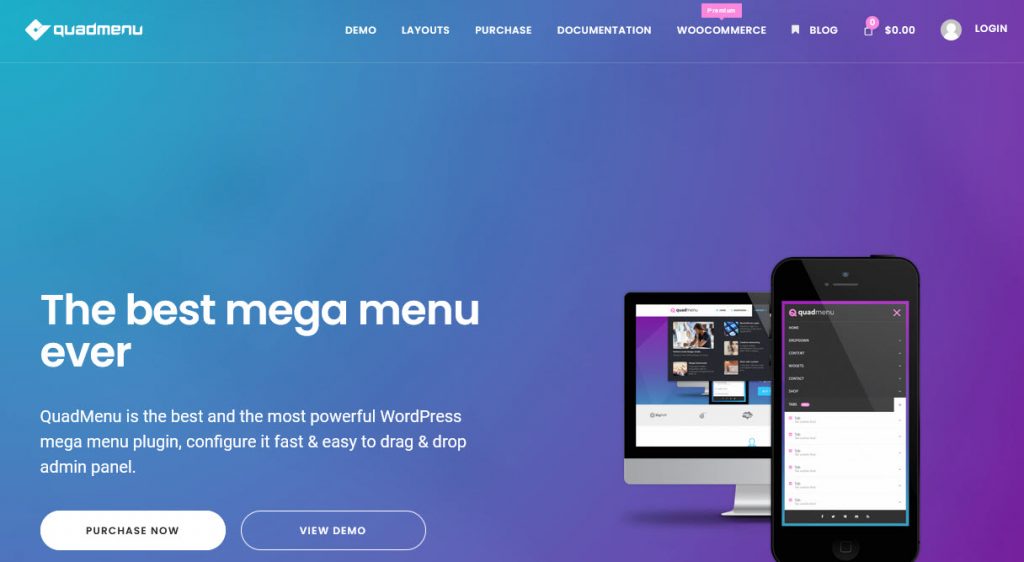 Quad Menu is a powerful WordPress Mega Menu Plugin which you can configure and build an easy drag and drop menu.
You can easily integrate Quad Menu into your theme and create amazing Horizontal and Vertical Mega Menus with accordion/panels with Desktop and Mobile Device Support.
It consists of a mobile-first concept where the menu responds to various screens and includes a touch interface improving the user experience.
It also has features like Drag and Drop Modules, Native Widgets Support, Menu Elements, Font Icons, Color Settings, and Layout Settings.
---
5. Groovy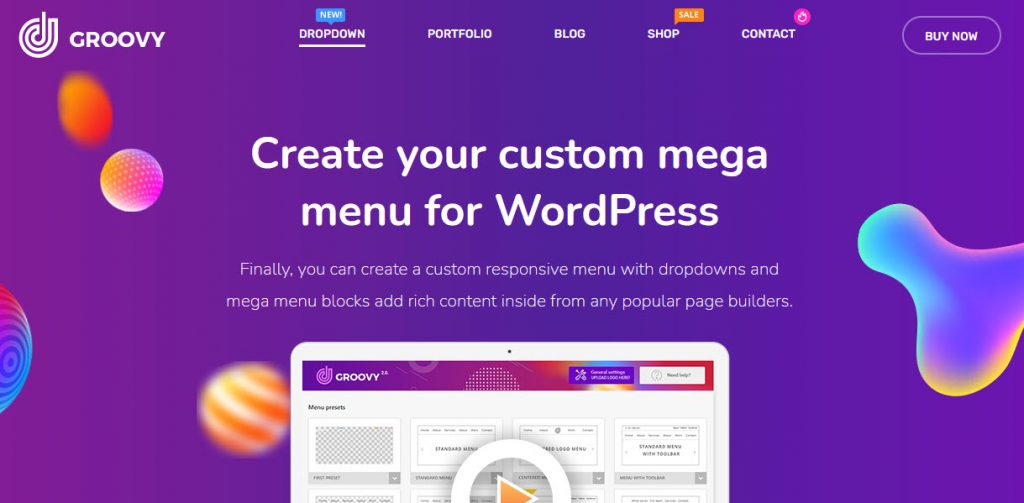 With Groovy Mega Menu Plugin you can build a custom responsive menu with dropdown and mega menu blocks using any popular page builders like Elementor, Divi, WP Bakery, and more.
It has many pre-set menu types that you can use and add columns, tabs, images, icons, maps, and more other elements.
Also Read: How to find a Creative WordPress Theme that actually works?
It has various horizontal, vertical, and sidebar menu layouts to choose from. You can easily create a classic mega menu with up to 8 columns various styles, colors, fonts, etc.
---
6. Uber Menu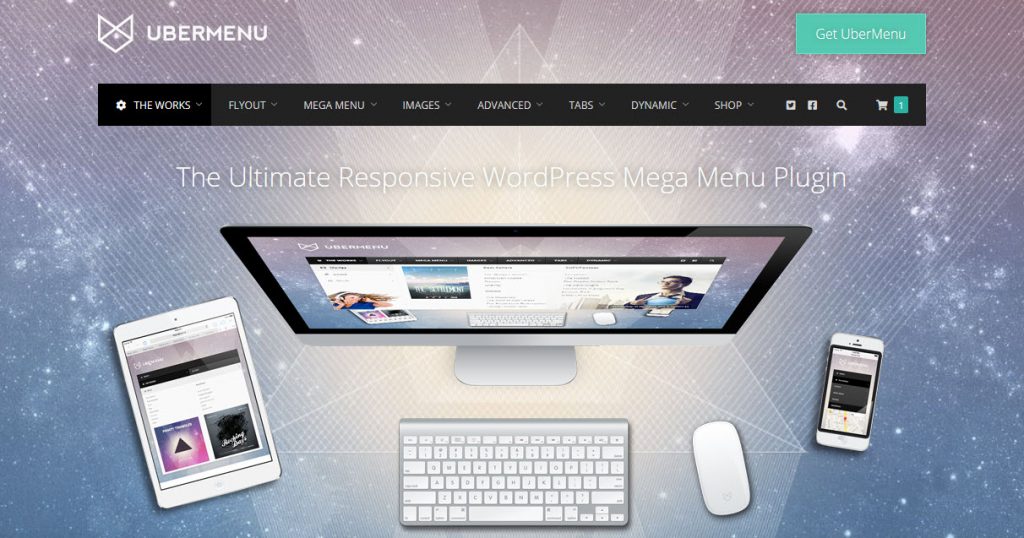 Uber Menu is another popular WordPress Mega Menu Plugin for modern websites.
With the plugin, you can create beautiful menu layouts with a full grid system and individual layout controls. It is a fully responsive and mobile-optimized menu that has touch-enabled features for enhanced experience.
You also can easily add images and add custom content with widgets. The Plugin is WooCommerce Compatible meaning a perfect fit for eCommerce stores.
It has the support of 100 essential Font icons that can be easily customized. All in all, it is a powerful Mega Menu Plugin.
---
7. WP Mega Menu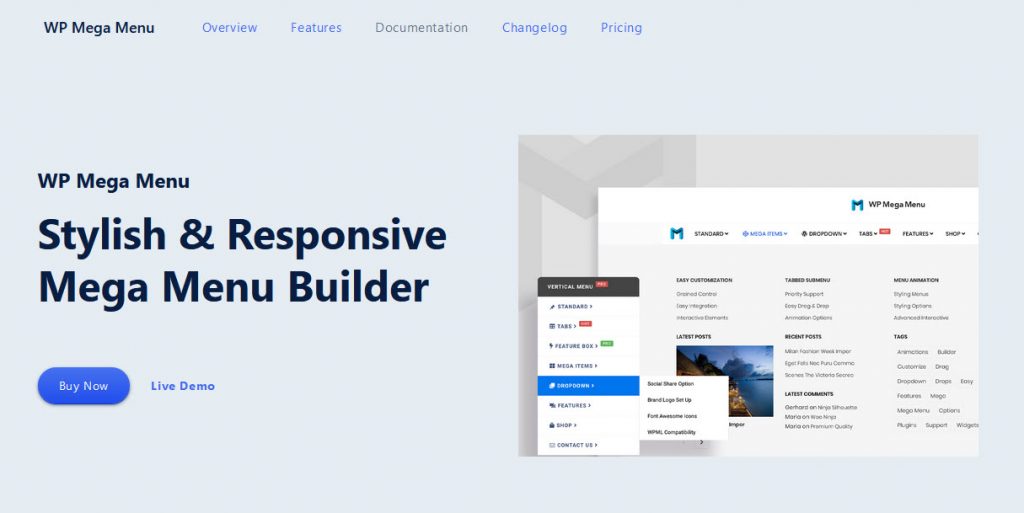 WP Mega Menu plugin is a fully responsive Mega Menu Builder for WordPress for creating wonderful navigation menus.
It also has a Drap and Drop Style Builder that is flexible and highly functional for building adaptive menu layouts.
The plugin is fast and intuitive allowing to place menu items in rows and columns with autosave changes.
It also has logo centering option, Feature Box pro, Vertical Menu, Call to Action Button, Priority Support along with social connects buttons featuring social icons.
---
8. Superfly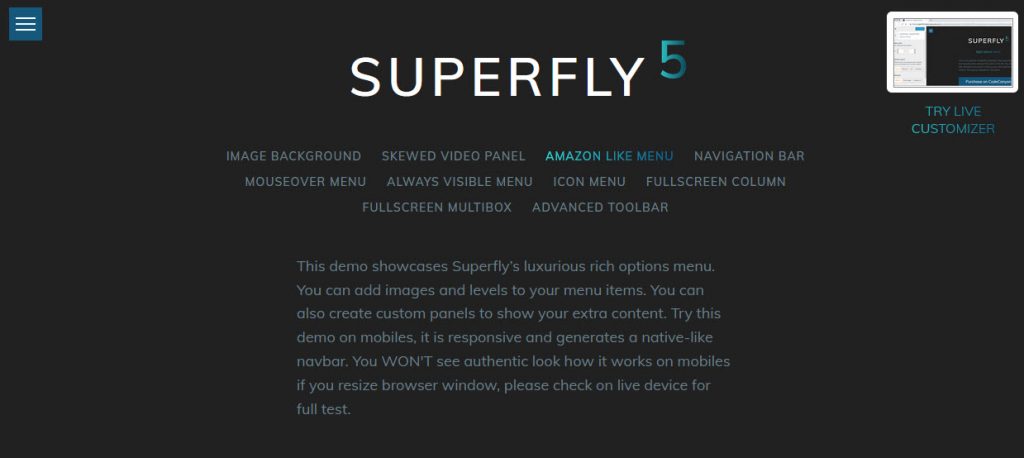 Superfly is a flexible menu plugin that can enhance your existing menu with various styles.
it is a responsive WordPress Menu Plugin that can be used to create vertical push navigation, sliding navigations, static navigation, icon toolbar, and full-screen menus.
Also Read: Seven Benefits of WordPress Survey Plugins on Modern Business Sites You Must Know!
Some of its amazing features include:
Live Editor
Export/Import Menu
Plenty of Design Options
Classic Drop-Down navigation bar
Faster Animations
Panel Design including video background
Superfly has a GDPR Compliant Design, Multi-level Menu Support, and comes with a smooth scroll. It has also has a bunch of beautiful animations.
---
9. Hero Menu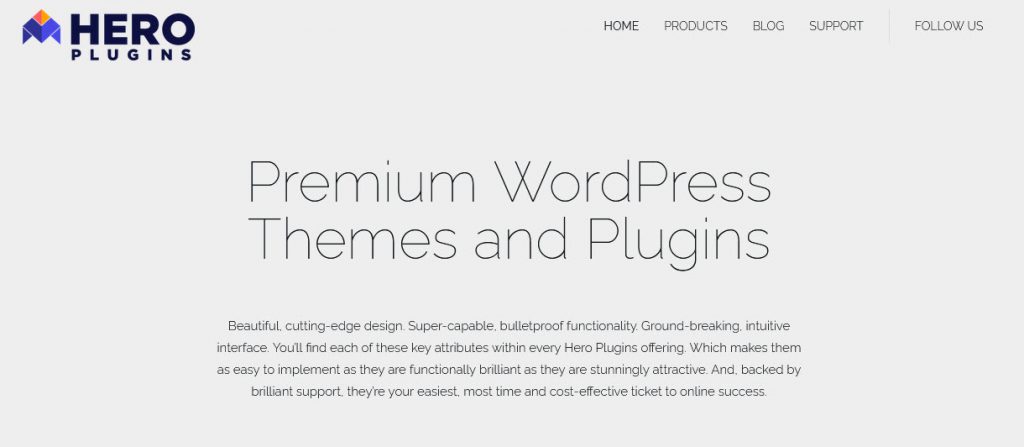 Hero Menu is a must for Professional websites looking for an amazing WordPress menu built in minutes.
It is capable of creating a complicated Mega Menu with rich features and also menus with simple dropdowns. Menus built with this plugin are fully responsive and of extremely high quality.
Some of the features of this plugin are:
Fully WooCommerce Enabled
Mega Menu Builder
Touch Support for Mobile Devices
Drag and Drop Menu Layout Builder
Custom CSS Selection
50 Free Color Presets
Social Icons Included
---
Conclusion
This was a comparison to find the Best WordPress Mega Menu Plugin for your website to create an amazing Mega Menu.
The right WordPress Menu Plugin will help produce a menu that helps visitors navigate and find what they're looking for without much fuss. This will not only improve the User Experience but also will rank your store higher on Google Search Results.
To further improve visitor traffic and engage users within your site try installing a WordPress Quiz Plugin like Quiz and Survey Master and entice users with amazing quizzes and informative surveys.
Also Read: This is how you can create awesome quizzes with the QSM Quiz Builder Plugin